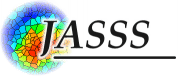 ---
David Hales is a Research Fellow in the Centre for Policy Modelling (CPM) at Manchester Metropolitan University (MMU).
He is working in the areas of Social Simulation and Artificial Societies. He has become increasingly interested in agent based computational models of social group formation and maintenance. Particularly models of sufficient mechanisms by which groups suppress individual self-interest. Such behaviours as self-sacrifice to group interests and the following of co-operative or altruistic norms within a group are difficult to explain in human societies and difficult to evolve in computational agent systems. It would appear that novel models of cultural group selection throw light on such group level adaptations. Recently "tag" mechanisms have been identified as a new and novel way to facilitate group level selection. Thus offering a mechanism for many kinds of group level adaptations to occur within an evolutionary setting (both cultural and genetic).
He received a BSc in Computer Science from Aston University and an MSc and PhD from Essex University (under the supervision of Jim Doran). Until July 2001 He was employed as senior research officer in the area of Machine Learning and Data Mining at Essex University (under the supervision of Paul Scott). From Sept 2001 until the end of December he was a visiting scholar at the National Research Council, Institute of Psychology (Division "AI, Cognitive and Interaction Modelling") in Rome working with Rosaria Conte's group. Since January 2002 he has been based at the CPM at MMU.
Dr David Hales (Research Fellow)
Centre for Policy Modelling,
Manchester Metropolitan University,
Aytoun Building, Aytoun Street,
Manchester M1 3GH,
United Kingdom.
e-mail: dave@davidhales.com
web: www.davidhales.com


© Copyright JASSS