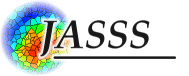 ---
Jürgen Klüver, Prof. Dr.phil., studied mathematics and philosophy at the universities of Hamburg and Kiel (Germany). He is professor of Information Technologies and Educational Processes at the University Duisburg-Essen. Fields of research: mathematical and computational sociology, theoretical sociology, sociology of science, theory of science.
University of Duisburg Essen, Campus Essen
FB 2 (R12)
Universitaetsstr. 12
45117 Essen
Germany
e-mail: juergen.kluever@uni.essen.de
web: www.cobasc.de
---
Christina Stoica, Dr. phil. studied educational science and computer science at the Universities of Essen and Bochum. As a research assistant she is co-operating with Jürgen Klüver in the field of Information Technologies and Educational Processes. The focus of her studies is the simulation of social and cognitive processes by using models of "Soft Computing": Cellular Automata, Boolean Nets, Evolutionary Algorithms and Neural Nets.
University of Duisburg Essen, Campus Essen FB 2 (R12) Universitaetsstr. 12 45117 Essen Germany
e-mail: christina.stoica@uni-essen.de
web: www.cobasc.de

© Copyright JASSS